How many animes did you watch last month?
I know you are all experts when it comes to watching popular animes right?
Well being a newbie in anime watching, and still have a long way to go when it comes to being updated on fresh anime releases, yet there are few animes that are trending like crazy, to the point where even non-anime watchers have started hearing their names.
Today, I am going to share with you top 5 best animes that you should definitely watch this month. These animes do not necessarily belong to the top charts. But they are killing the stats!
In fact, I took the posts from other anime bloggers and anime community as a reference for this.
However, it is evident how this animes have constantly gained the attention of otakus all over the world. They have become prime topics of discussion among most of the anime fans.
#1 Wonder Egg Priority
What will you get when you search 'egg anime' on google? Yes, you will get this anime as an answer.
But before I say anything about it's story, let us ponder over the mind-blowing character design & artwork of this anime. It's literally amazing!
Produced by Studio Cloverworks (Yes the one behind The Promised Neverland), the story of Wonder Egg Priority revolves around a young girl named Ai, finds a mysterious egg known as the 'Wonder Egg'. Upon breaking the Wonder Egg, it gives Ai the ability to protect other girls and her friends from lurking monsters and dark souls, with the intention of bringing back her friend, who died by suicide.
Wonder Egg is more of a promise, a promise that gives you what you want, which is capable of fulfilling your deepest desires.
The entire story is very beautiful and has it's own essence and identity, which I think is very difficult to implement, as animators and story writers. Friendship is a precious gift, and it's true meaning is portrayed thoroughly in this anime.
Struggle, hardships, betrayal, bullying, torture and so many dark themes are covered deeply in this anime. So don't fall for it's colorful and bright world-building and animation.
Don't just assume that it is just another High School + Isekai Story. Trust me, it's even more engaging and interesting, something unique is being offered to you!
#2 Attack On Titan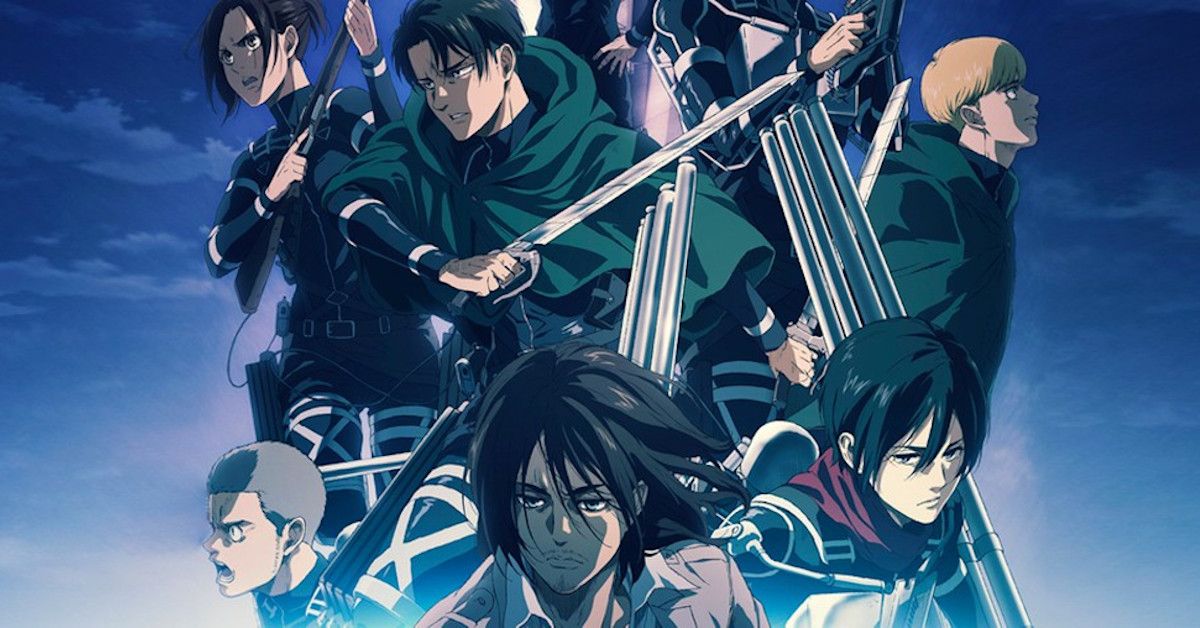 Wait a second.
How did mainstream anime get here?
Well, because if you have not started watching Attack on Titan, THEN JUST START WATCHING IT ALREADY!
Starting with a world governed under the fear of Titans and the destruction they cause to humanity. As the seasons progress, several hidden facts get revealed, layer-by-layer, bit-by-bit, and it just keeps getting better. Betrayal, Sorrow, Politics, Friendship, Loyalty, Patriotism and War are prime concepts displayed in this anime.
Attack On Titan has dominated the first quarter of 2021 due to it's incredible story revolving around Titans & Political Warfare. From a personal perspective, Attack on Titan is the best anime and I can easily rank it at 1st position in my personal top 10 animes list.
If you have not watched a single episode, then you will be going to miss a lot, as an anime fan, in general.
The reason why I am recommending to watch it, is because the 4th Season is on full swing and before the second part of the 4th Season starts (which will be in Winter 2022), you still have a lot of time to catch-up with the previous seasons.
This anime has got great character development, incredible visuals, gripping story and everything you need in anime. However, you will feel the striking difference in world-building and character design changes between the previous seasons and the 4th Season, as the 4th Season is animated by Studio MAPPA.
#3 Dr. Stone
Dr. Stone series has been completely awesome.
I never got bored with the highly-intelligent protagonist Senku and his awesome inventions.
In fact the inventions keep getting better and better as we move towards the new era, driven by technology. On top of that, we all love the heated rivalry and the concept of 'Brains vs Braun' portrayed in this anime.
Dr. Stone is a must-watch for any anime fan who loves sci-fi and educational anime. Stone Wars is the second season of this anime, and as the name suggests, it is all about the battles that take place between Senku's Army & Tsukasa's Army.
We have great characters, and we also get a good amount of comedic scenes and faces. Friendship, Science and Inventions, Rivalry, Battle, Tactics & Comedy are the highlights on which Dr. Stone is focused.
I highly recommend watching this one!
#4 Cells At Work! CODE BLACK
Another educational anime in this list?
Well Yes, and Cells At Work! CODE BLACK can be considered as a great addition to your April's to-watch list.
The anime involves thematic representation of how the cells work in our body, at a biological level, in the form of anime, where each type of cell is a character. We get to see how these cells fight the foreign particles and creatures, which are basically cells too, but portrayed as antagonist or villains in the series.
It is beautifully adapted, and consistently gives us explanation and working of the different types of cells shown in it. Their goal? To protect the human body from viruses and bacteria and save it at all costs.
If you have always wanted to watch something unique and different in anime, go try this one out. And trust me, it is going to be amazing!
#5 My Hero Academia
A world where people are born with superpowers.
However, to be able to become a hero and use these powers for the betterment of humanity and saving the lives of people, you need a hero's license.
My Hero Academia is one of the best modern shonen animes out there. If you haven't watched the previous seasons, then I highly recommend you to watch them as soon as possible, since the 5th Season is out and airing as of now.
The story follows the struggles of a student named Midoriya, who, unlike the rest of the world, is born 'quirkless'. However, his idol 'All Might', who is the No. 1 Pro Hero, is his inspiration behind wanting to become a hero and save people with a smile on his face.
However, fate & luck is not in his favor. The story progresses with the idea of how Midoriya gets his own quirk and trains himself to become a legendary hero. The animation, art style, voice acting, character designs and fight scenes are great and worth watching.
Self-sacrifice is the essence My Hero Academia.
So that's it. I know the list is very obvious, but the animes which I have recommended are really a must-watch.