This is a list of the top 10 GTA 5 missions ranked based on a few factors like difficulty level & uniqueness. Please note that this is my personal list and you might not always agree with my choices. I have created this list based on my understanding and what I personally liked the most. Feel free to mention your favourite missions from GTA 5 in the comments section down below.
GTA 5 is one of the best open-world games in the 21st Century created by Rockstar games. It involves three eccentric protagonists Michael, Trevor and Franklin, who are always on the lookout for robbing, doing heists and whatnot to acquire money. The reason why the game achieved the highest position in the charts is due to the fact that the missions are challenging and amazing. So here is a list of the top 10 GTA 5 missions.
List of Top 10 GTA 5 Missions
#10. Franklin & Michael Roasts Trevor (Literally) in "Something Sensible"
This is not a mission that you will directly get in the series. To achieve this mission, during the end of the GTA 5 storyline you will have three options, Kill Trevor, Kill Michael or Deathwish. Basically, what you have to do is just chose the option 'Kill Trevor' which will trigger this mission.
If you choose this option, Franklin and Trevor meet at the oil field during which Franklin draws his gun and points it toward Trevor, Trevor will run for his life and Franklin needs to chase him. At last, Trevor crashes into the gas tank, himself covered up in oil and physically not capable of running anymore. Franklin has to shoot the oil on the floor and Trevor catches fire and gets cooked.
#9. Ride the Bucket of Dozer and Wear Ballistic Suits in "The Paleto Score"
This is one of the most unique missions as this is the only mission where you will feel 'invincible' on full star wanted police, due to these crazy ballistic suits (yes these suits are heavy like hell) that are impossible to penetrate for normal bullets. In this mission, you will have to escape the police, right after a local bank robbery, and you will also have to ride a dozer to carry your other two crewmates in its front bucket and protect them from the police, isn't it crazy? This is why I think that this mission deserves to be in this top 10 list.
#8. Steal a Submarine in "The Merryweather Heist"
Heists have been an integral part of the GTA 5 storyline as they were the hardest and the most lengthy missions with great planning. In this mission, you have two options, offshore and freighter. One of the striking features of this mission is that you get to ride a submarine. Also if you choose the offshore method, you will have to track the device underwater using the Trackify App on your in-game mobile phone.
#7. Cure Your Impotency (LOL) by Yoga in "Did Somebody Say Yoga?"
When I say that this was one of the hardest missions, I mean it. Many fans all over the world found this mission annoying and difficult at the same time, because who knew that Yoga would be so tough in the game as well?
All you have to do is do Yoga with your wife and the Yoga teacher. The controls are very hard, and you will definitely lose the mission at least 2 to 3 times before you complete it successfully. Along with pressing the keys, you need to have a good judgement of time so that you don't trip or fall while doing a pose.
There was nothing much interesting in this mission other than doing Yoga, but I included it in this list because it was something new and unique. These are the poses that you have to complete with good accuracy to complete this mission.
Warrior Pose
Triangle Pose
Praise the Sun Pose
#6. Mess Up a Train in "Derailed"
You require Michael and Trevor for this mission in which Trevor drives a train containing the cargo that includes the artifact. Upon reaching the bridge, Trevor's train collide with another locomotive, causing a huge impact and the cargo's all fell into the river. As soon as this happens both Michael and Trevor now need to shoot the chasing Merryweather goons and escape from their sight. This was yet another difficult mission as I failed it multiple times before finally being able to complete it.
#5. Dig Your Friend's Grave in "Bury the Hatchet"
By friend, here I mean Michael since we all know that the death of Michael was a fluke and somebody else was buried in North Yankton with his name on the grave. Trevor was curious about who was buried and went to Ludendorff to dig up and see who was actually buried there, which in fact turned out to be Brad, his friend from the first mission. Michael had covered up his death and his own death as well, so this was one of the biggest revelations in the series.
Rarely you will find GTA games where you revisit the section of maps that are very limited and cannot be explored further. The Ludendorff map is still large but limited, but the fact that you can revisit it during yet another mission is a great move by the team of GTA 5.
#4. Blast Someone's Mobile Phone in "Friend Request"
This mission is the best way to explain assassinations using technology. It is evident that you can use technology to implant bombs into handheld devices, and in this mission you will have to do the same. By planting the bomb in the prototype device that would be used for the demonstration on Weazel News.
You will have to call the Lifeinvader founder as soon as he holds the prototype in his hand for demonstration. As soon as he receives your call, then BOOM! The prototype blasts, killing the Founder instantly. This was definitely one of the most horrible missions to exist, yet the idea was unique.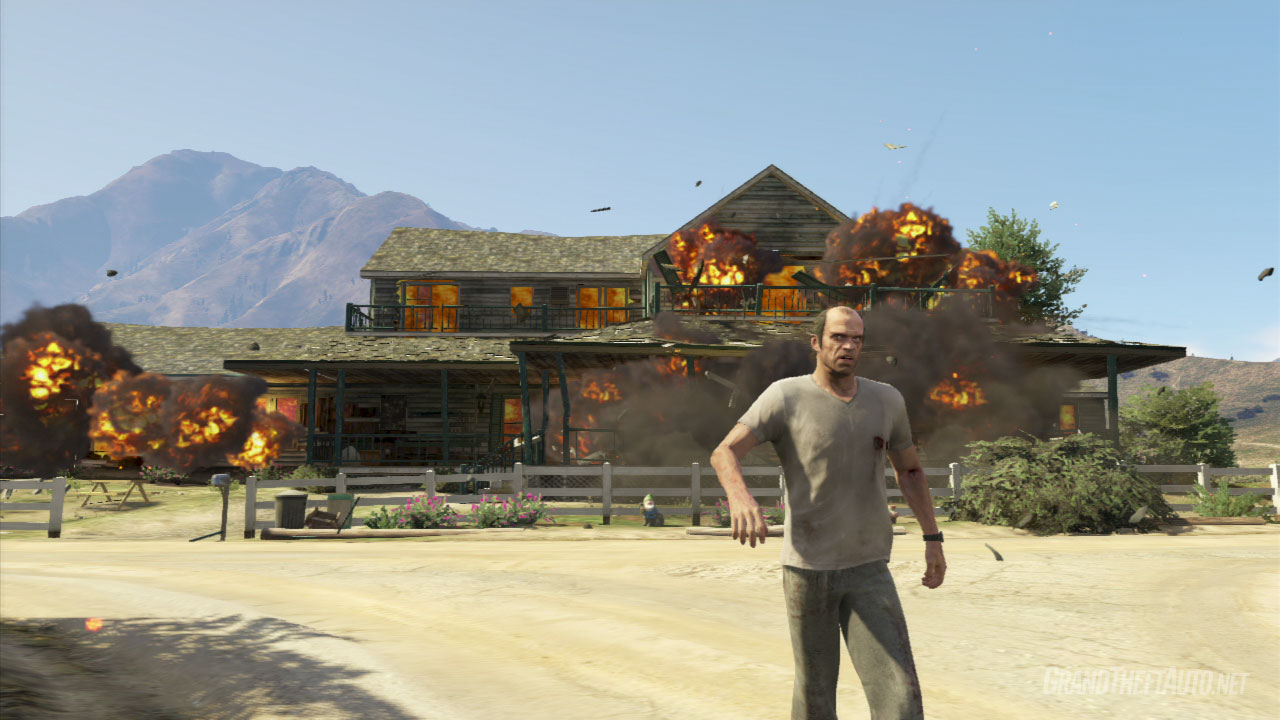 #3. Blow Up an Entire Ranch in "Crystal Maze"
Have you ever fantasized about blowing up an entire house? Well if yes, then this mission is clearly for you. In this mission, you play as Trevor and you will have to raid the O'Neil Brother's Ranch all by yourself. You will have to fight through them, further going into the basement and picking up that jerry can. You will have to follow the trail and pour the petrol from the jerry can. In the end, Trevor has to just shoot the trail & cause the whole ranch to catch fire and blow up in seconds.
This is also one of the hardest missions as you have to fight all the ranch boys all by yourself. You will have to rely on Trevor's ability a lot to be able to preserve your health.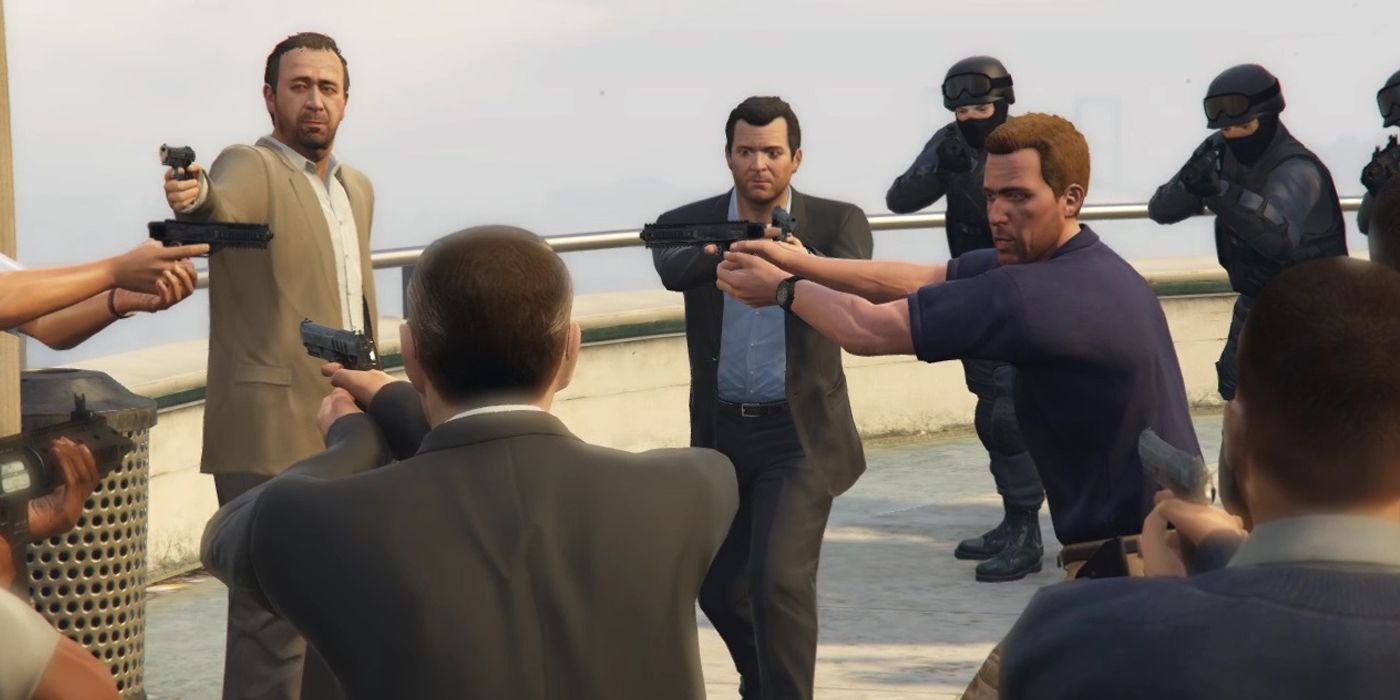 #2. The Best Standoff You Will Ever See in "The Wrap Up"
I don't even need to explain how great this mission is. You can look at the above image, have you seen such a standoff in GTA games? Being cornered up by FIB right on a rooftop, this mission was amazing. You will have to shoot down the helicopter while playing as Trevor, and at the same time, protect Dave while shooting all the FIB members. This was also one of the hardest missions in the series.
#1. Shoot Down an Entire Jet in "Caida Libre"
GTA 5 does impress us with the amount of creativity that it has put into its missions. Nevertheless, for this mission as well, you will require both Michael and Trevor. Michael has a job to shoot down the engines of the jet. This is one of the hardest things to do as shooting down a flying aeroplane because zooming was very difficult. The gun keeps shaking and aiming is hard.
Once the aircraft gets damaged, you will have to follow the aeroplane (the distance covered is almost half of the entire GTA 5 map) by becoming Trevor on a Sanchez Motorcycle, until it crashes near a desert-like place. You retrieve the required documents that need to be delivered to Martin Madrazo (which does not happen as Trevor had other plans).
Hope you liked this list of top 10 gta 5 missions.
Also Read: 8 Things That Fans Hate About GTA V – AGR (animegoodreads.com)