Overview of My Villain Academia Arc
League of Villains had been continuously neglected, which has had a great impact on their respect and status in the villain society. The league is now prepping hard for yet another major destruction. On top of that, we have Gigantomachia, a faithful servant of All for One, who is now assisting the league. But this is not the end of the story.
Meta Liberation Army, an army of thousands of villains is now ready to join forces with the League of Villains. Together, this mashup is known as the "Paranormal Liberation Front". Because of the high head count, versatility of quirks of different villains and rigorous training, a bomb-sized threat is slowly approaching towards our beloved heroes and students of UA Academy.
Release Date
Episode 108, "My Villain Academia" is set to release on 21st August 2021. You can watch it on Funimation or Crunchyroll.
My Villain Academia New Key Visual/Poster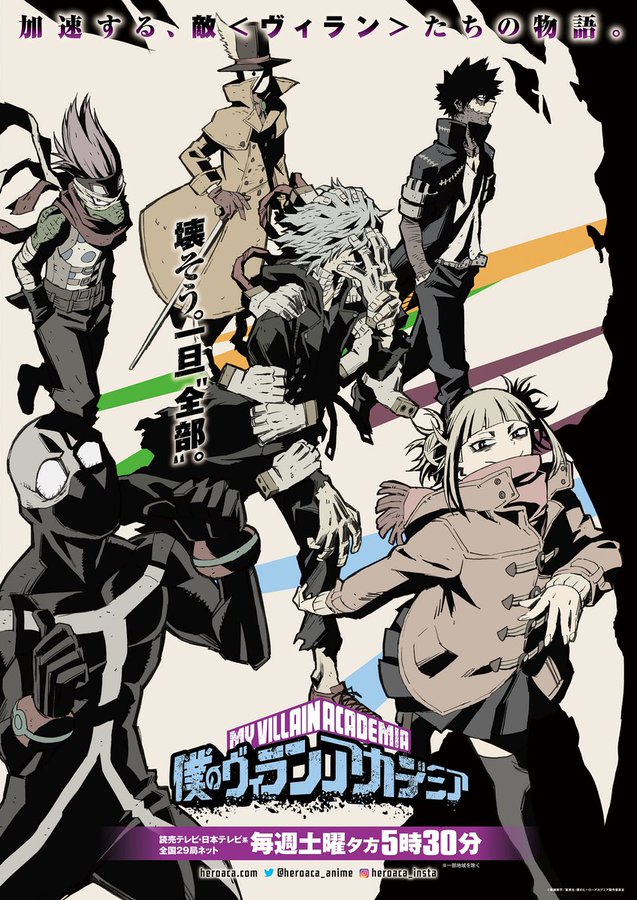 The Spotlight is on the Villains
The first key visual/poster for the latest arc is available online. As we move towards the end of the fifth season and towards its final episodes, we are going to see a solid climaxing arc that every manga fan was awaiting. In honor of this most awaited release, key visuals have been distributed all over the internet. Character designer Umakoshi Yoshihiko has clearly demonstrated his unique art style in this key visual. He has also emphasized every character from the League of Villains, as they regain strength for yet another destruction.
Preparations are strong at both the ends
Be it our budding heroes or the destructive villains, each side is preparing and training for yet another juicy fight. The unexpected involvement of the new Meta Liberation Army can possibly be a deadly threat for the heroes.
About the Meta Liberation Army
It is a very powerful and large villain organization that follows the concept of using Quirks "freely" rather than using them in a controlled way. The organization's leader is Re-Destro.